Obtest Interview (In English)
Usually I write the forewords for interview by myself, but this time I give the word for the band itself:"It's a very hard times now, all talks and opinions on political topics could fuel the fire for propagandists, you know, there are so many lies in the media, and propaganda works on weak minds. Our band stand for expressing the traditions of our land, to show for the younger generations what cultural heritage we possess. And we don't want anyone to associate our art with modern politics.
Have a good day,
Sadlave"
1.Hails to Obtest! For the first let me know guys, what you're doing since 2008 till now and what's about new material? Except, single of 2011 sure.
Hi there, we just made slow down our horses for a while. Recently we put out split mini album with some new songs, it's called "
77". We share this record with DISSIMULATION guys to commemorate the beginning of the black metal movement in Lithuania back in first half of 90's. So the material is grim, showing the origins. New material is on the way, we still need some time to complete the whole opus. And still we have some live dates around, so check out!
2.A lot of theories and sources are spoken about Lithuanian mythology, but a lot of the are arguing and contradicting with each other. Can you name some writers and scientists and names of their works, which you may call competent enough and worthy of attention. Which book or work the person should read if he or she want to begin study the Lithuanian mythology and paganism?
Most important works are made by Norbertas V
ėlius, Gintaras Beresnevičius, Vladimir Toporov, Algirdas Julius Greimas.
The one should start with "Lithuanian mythology"
and "Chthonic mythology in Lithuania"
by
N.Vėlius and "Lithuanian religion and mythology" by G.Beresnevičius. Of course there are lots of writers, pseudo scientists, romantics, philosofers and there are different streams of paganism, and so on, but let's save energy and time.
3.Tell the main motives and stories from your homeland mythology, that you used in your creativity. How did you transferred the heritage of your folk into the lyrics?
Some of our songs deal with cosmogonic myths, solstice, transition in beliefs, model of the world, underworld
chthonic
myths. We have very rich heritage of folk songs in Lithuania, lots of them are so old reaching neolithic times and bronze age.
Our song "Devyniaragis" is about nine horned raindeer bringing the new sun on winter solstice, it's based on extremely old folk song.
This is very powerfull inspiration to pass it forth the way we perceive it today.
4.Please tell the same about Lithuanian history. Which persons in the history of Lithuania you may name as a most important for yourself and your country?
Gediminas (1275-1341) – the pagan ruler, he sent letters to the western cities of Hanza telling: "(...) in our lands everyone can believe in their own gods, we respect it...". Everyone who during the whole history laid his head for freedom is important.
5.Tell about the sacred heathen and historical place of Lithuania which you had visited or not. I think every of it has it's own history and atmosphere, where you are there.
We have plenty of ancient places around, and people still tell stories about them. My sacred place is at Kernavė – the first capital of Lithuania. I spend a lot of time there since I was student, and I call it my second home. We have lots of sacred stones, springs, hills and some forests, which kept it's old names dealing with "sacred or divine".
6.Do you interested in reconstruction, battles and such festivals? Do you or your friends/bandmates are taking parts in such events?
I'm the only in the band to take part in reconstruction world. During the events I represent ancient goldsmithing and
baltic
metal working craft.
7.What can you say about other Baltic countries - Estonia, Latvia? Which persons, places, pieces of history, culture attractive you there?
Estonia
and Latvia are both nice countries, Latvians are our brothers, and Estonians – northern brothers. Estonia is always ahead of Baltic states, so it's a guiding star for us. Latvia's will is clearly represented by SKYFORGER.
8.Tell about the personalities of Baltic music scene - heavy, pagan, black, any, which you can name worthy or not. I mean not just musicians, but zines, labels etc. How can you describe the development of the scene from the times where you began till now?
I'm not much in to scene these days, but I'm proud of these young lads, who have the balls and powder, and they carry the flame forth. I mean bands like AU-DESSUS, JUODVARNIS, PHRENETIX, CONFESSION, LIVING ALTAR, EXILE IN TO SUFFERY, NYKSTA. Labels are LEDO TAKAS productions and younger one INFERNA PROFUNDIS responsible for black arts and stuff, DANGUS productions more in to folk, experimental, alternative music. We have superb open-air festivals like "Kilkim
Žaibu", "Mėnuo Juodaragis", "Velnio Akmuo", and couple of smaller events. Developement is obvious, everything changed a lot in the scene, because life changed in general. I can't tell if there are more creative people, but they have a much better conditions to realise their ideas.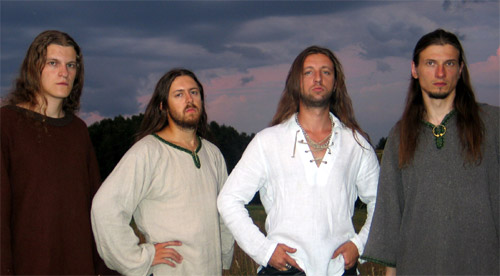 9.I seen that members of Obtest also took parts in so much Lithuanian Metal acts like Anubi, Burying Place, Ruination, Ugnelakis and so on. Please tell a few words about these bands and also about what great bands of Lithuania survived from early years in any forms?
My musical "career" started in band BURYING PLACE (1992), I plaed guitar in RUINATION for one year (1994-1995), then concentrated more on OBTEST. When Thoth left ANUBI in 2001, Lord Ominous asked me to join and we started to compose material for the mini album, which was recorded autumn 2001, and is still not released. Our guitar player Enrikas is a professional musician and has many projects as well as his own band SOUL STEALER. These days only few bands survived the time, I have to mention NAHASH, MERESSIN, DISSIMULATION. Some others re-unite for some show or something.
10.Can you advise some baltic historical or fantasy movies? Can you tell something about Lithuanian cinema? Can you distinguish some talanted directors?
Lithuanian cinema is something I like. It has it's own stamp, with some exceptions, and sometimes could be hardly understood by others. Historical movie is famous "Herkus Mantas" (1972) about Prussian rebellion (1260-1274) and it's leader Herkus Mantas. My favorites are "Velnio nuotaka" (musical 1973), "Rie
šutų duona" (
1978), "Vaikai i
š Amerikos viešbučio" (
1990), "Neatmenu tavo veido" (1988), "M
ėnulio Lietuva"
(1997)
, "Balkonas"
(2008)
, "Paskutiniai Bremeno muzikantai"
(musical 2005)
, "Lošėjas"
(2013)
, "Zero
2"
(
2010)
,
and all movies of
Šarūnas Bartas,
he was the best since 1990's.
11.If we will make a distance from a Lithunian mythology and history, which writers and genres you may name your favorite and what tastes have the other members of the band? Can you put something from your favorite creations into your lyrics?
I like Gabriel Garcia Marques, Hermann Hesse, Michail Bulgakov, John Steinbeck, Julio Cortazar, Czeslaw Milosz, Salman Rushdie, Charles Bukovski, Strugatsky brothers, J.R.R. Tolkien. Recent Lithuanian writer I liked is Kristina Sabaliauskaitė. Mostly I read scientific literature, but in spare time I like to read Lithuanian books from XVI-XVII centuries, because of the old language.
12.I watched the development of your style from the very beginning and already on the Tūkstantmetis I found out that you started to use solos, that later became the distinctive feature of your style. Tell me the secret, how did you mixed in your early years the heavy stuff in a vein of AC/DC (according to your official site) and moods of the early Scandinavian bands, like Mayhem? I've seen so much progress from Pries Audra, and, sure from Death Metal era.
You know it's not so easy to express the way music influences mixes. AC/DC, Manowar, Kreator were the bands whick took us in to metal music world back then. As a musician I was influenced by Kreator, Death, Grave, Paradise lost. During early black metal days heavy inspiration for me was Grand balial's key demo "goat of a thousand young", Enslaved's iggdrasil demo, Master's Hammer's Filemnicky Okultista, Rotting christ debut album, and etc. In 1994 it was a time when I experienced big influence from Norwegian black metal bands, and later I started to dig more experimental styles and non metal music. So I think it was a next level with our debut album "T
ū
kstantmetis" in 1997. As you noticed solos and things have enriched our songs forth on.
13.At Metal Archives I read that you stand on anti-fascist and anti-communist position. Please clarify this issue. What can you say about nationalism of every European nation, struggling of European peoples for their rules and also parting a scene with such bands like Nokturnal Mortum?
We stand of anti - "fanatic, extremist, radical, ultra, narrowmind" position, that's all. I see nationalism as "respect" not "superrior".
14.What do you know about Slavonic scene and Slavonic countries? In the first part of question - can you name some worthy projects or bands from there and second - some worthy personalities, not just Russia, but all Slavonic countries and folks.

I know lot of things about slavonic countries, and have friends in Poland, Belarus, Ukraine, Russia. Talking about music I can name GODSTOWER (BY), PERCIVAL (PL), DRUDKH (UA).

15.And what do you think about new repartition of the world and new conflict in Slavonic region and increase of tension on the border with Baltic countries now? Do you think, that political bastards finally won't set us by the ears and Slavs (and generally, Russians) will stay in good relation with Balts?

I think it was a big fail. Russia's politics are so barbaric and pointless, do they really want to rebuild soviet union crap? I don't like homo sovieticus. Slavic people, baltic people, germanic people - one should treat their neighbours with respect!


16.And some final words for the House of the Whipcord Zine!
Good luck with your media, stay metal!